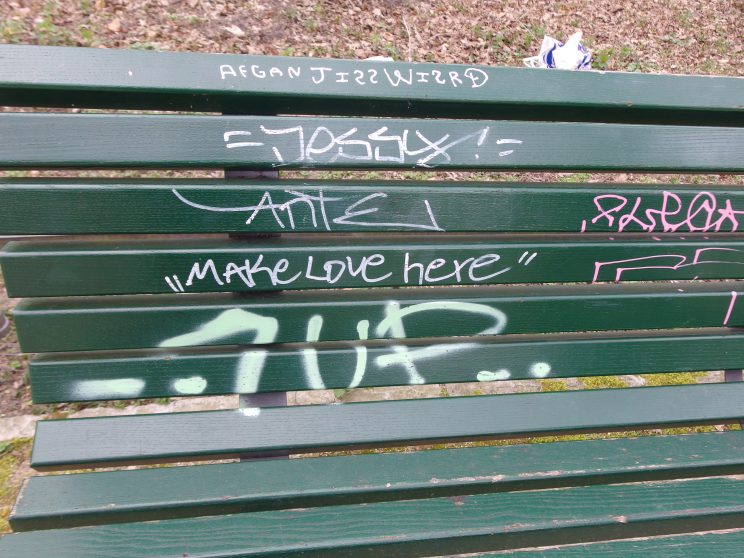 Is Rape an Instinct Gone Wrong?
Rape is an act of violence. This much we know, or at least, as a culture we try to comprehend. While many judicial and social entities have a hard time separating rape and sex, common knowledge is beginning to accept that this is typically an act of aggression, not an expression of sexuality or uncontrolled desire. But do we fully understand the instinct that drives rape? It's hard to argue that this is an issue that developed in modern society when rape has always been a part of human history and rampant in the animal kingdom. We see this with horrible clarity in chimpanzees and their rape-enforced patriarchy. (Mendel, 2012) In this nightmarish world, the females not only accept rape as a part of daily life, they are forced to resort to using sex as a bargaining chip with all the males in their social group to ensure the continued safety of their young. Sex is a display of dominance by the males, used to perpetuate their genetics and control access to resources. This sexual terrorism is something we often see in our own society, with threats of rape and sexualized violence used against women (and sometimes men) online and in the public arena to silence or "punish" them. The use of rape as an instrument of war is also a common theme, and the fear of its effectiveness to demoralize not only the victim but society has been cited as a reason for denying women equal access to combat positions in the U.S. Military (Peach, 1996).
In contrast to the chimpanzee and human examples, we see in Mendel's film the egalitarian and predominately pacifist society of the bonobo, who also use sexuality as a tool for conflict resolution and social control, but in a consensual and positive way. As bonobos are our closest cousins, it makes me wonder if the actual act of rape is an instinct or if the instinct is actually for the use of sex as as a social control gone haywire. I do not hide the fact that I was a sex worker when I was younger, and as such I have seen how our society denigrates what we consider "non-traditional" expressions of sexuality. One of these expressions is the necessity of sex as a tool. We demonize the idea of sex for any other reason than procreation or marital bonding between a man and a woman. In doing so, we ignore the fact that this leaves many members of our society feeling shunned and shamed out by their world. Without the comfort of sexual (and there by social) inclusion, they are expected to suffer the sting of rejection and exclusion from the group in silence. The inherent rage generated by this system is often illustrated vividly in online harassment cases, where young males who feel shut out of sexual competition rage against women with accusations of "whore" or "slut" and women counter with comments about his inability to attract a woman. Likewise, females are often pitted against each other in cycle of self-loathing and mistrust. In spite of this increasing spiral of hate, championing the de-stigmatization of instinctual casual sexual conduct to reduce stress and increase social cohesion is seen as contradicting culturally established morals to such a degree that it is a threat to the very fabric of our society. Does this ignore a primal instinct to utilize our sexuality to resolve conflict and strengthen our social bonds and replace it with our more predatory biological functions? I have seen the power of sex as a positive tool or trade commodity to heal and encourage the outsider firsthand, and it can be incredibly transforming. When used properly in a non-exploitative environment, I would argue that casual or commodified sex can only deescalate conflict and division in a social group. I believe this to be part of our biological programming, and we are choosing to ignore it.
Is rape an act of sexual frustration? No, I don't believe that rape has much if anything to do with the actual sex act in the vast majority of cases. However, I do believe that the toxic combination of outsider rage and a vacuum of effective intimate social bonding in human society has lead to rape and sexual violence filling the instinctual void where consensual sexual encounters function for bonobos. Widespread sexual contact within a social group reduces competition for power, increases access to resources, promotes cooperative child-rearing, and bolsters group cohesion. Stripping the social taboo from casual sexuality could only lead to it no longer being seen as a tool for violence and marginalization and would satisfy our biological drive to bond with our group in a positive way.
References
Mendel, G. (2012, July 13). Evolution – why sex? – PBS documentary Retrieved from https://youtu.be/f8Nn-MNC1ik
Peach, L. (1996). Gender and War: Are Women Tough Enough for Military Combat? In Gender in cross-cultural perspective (2nd ed.) (pp. 28–37). New York, NY, United States: Pearson Education (US).